Quick Comic Takes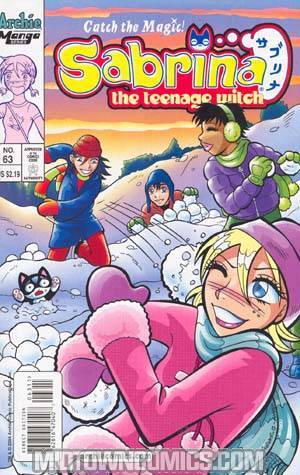 Sabrina the Teenage Witch #63
Tania Del Rio continues to breath fresh life into the Sabrina world. This time with Sabrina and her friends, including her male pursuers Harvey and Shinji, on a skiing vacation.
Harvey and Shinji wind up trapped together in a heavy snow storm. The two learn more about each other during their ordeal, and I as a reader got to see sides of them that I hadn't known about before.
For the first time I could see why Sabrina likes the two guys. Harvey's selfless caring behavior towards others, and Shinji showing some unexpected self consciousness as he sees more to Harvey than he had before.
I'm really surprised by how much I've enjoyed this series, as it really has brought these characters to life in fun entertaining stories that work for all ages.

X-Day Book 1
I wasn't sure what to expect from a manga about people at a school planning to blow it up. Yes this first volume was pretty interesting, as it explores these peoples lives that would lead them to want to do this.
One of the really interesting aspects is that they first meet online in a chat room. So when they finally meet in person later, the differences between what they expect the others to be like and the reality is surprising, but often what I've gone through as well in life.
This is especially evident when one of the participants turns out to be of an unexpected age, that adds a new dimension to the story. I'm surprised to know that this series is only 2 volumes long, and wonder how they'll wrap this up in the second volume.

Peach Fuzz Book 1
This book about a precocious 9 year old girl who gets a ferret with a princess complex, could have been horribly saccharine filled cheese.
Yet it is a surprisingly fun little comedy story that manages to balance both the lives of the humans as the girl struggles to keep her pet's faults (biting and repeated escape attempts) secret from her mom. Along with her pet's strange fantasy filled interpretation of the (as she perceives them) horrors the young girl innocently does to her pet.
It certainly made me see the ways pets might see the world they live in from a different light. The young girl isn't really mature enough to understand that what she sees as playful fun, like having her stuffed toys wrestle with her ferret, is a torture to the pet. Yet it is done in such a way that while you feel sorry for the pet, you understand that the child doesn't mean anything evil about it.
This is just a fun comedy series with a lot of heart, that has one of the most fun cover gimmicks in a while. A Scratch & Sniff sticker that smells like peaches!